Save the date! 11th U.S. Symposium on Harmful Algae
We are pleased to announce that the 11th U.S. Symposium on Harmful Algae will be held on October 23-28, 2022, in Albany, New York, at the Hilton Albany.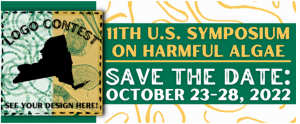 Local coordination is being led by NEIWPCC, New York State Department of Environmental Conservation, and U.S. Geological Survey with support from the U.S. National Office for Harmful Algal Blooms at the Woods Hole Oceanographic Institution.
The theme for the upcoming symposium is "Science to Support Solutions from Shore to Shore".  From freshwater to marine systems, the prevalence of harmful algal blooms (HABs) is a national environmental challenge, and solutions are needed. Celebrating this event in New York – the only state with Great Lake shorelines, marine coasts, and the diverse range of ecosystems between these extremes – creates an ideal setting to discuss progress in understanding algal bloom ecology and the solutions necessary to prevent and reduce HABs.
This conference is open to all registrants. Attendees will include national representatives and researchers from academia; state, federal, tribal, and municipal governments; the private sector; and watershed organizations.
Interested in sharing your creativity with the HAB community? Visit our conference website for details regarding our logo contest and the most current event information. For general questions about attending, sponsoring, or exhibiting at the 11th U.S. Symposium on Harmful Algae, please contact Maryann Dugan at mdugan@neiwpcc.org. Please feel welcome to distribute the attached flyer to colleagues and partners. Save The Date_11th U.S. Symposium on Harmful Algae